In the midst of the COVID-19 pandemic, Oregon's devastating September wildfires took lives, homes, and acres of land. Whole communities were destroyed. People's entire livelihoods are gone, their futures uncertain. Alongside local and national partners, Catholic Charities has been supporting disaster relief efforts in Medford, Phoenix, and Talent.
Complete Destruction
As of September 10, 2020, FEMA's Disaster Declaration includes eight counties in Oregon.[1] According to an Oregon Office of Emergency Management dashboard, the Oregon wildfires burned almost one million acres and destroyed 4,026 homes, from 2,364 in Jackson County to 11 in Klamath County.[2] It was complete destruction; the flames took people's personal belongings, life savings, and homes that held countless memories.
"In disasters, the most vulnerable people, who have the least, often lose the most," said Deacon Rick Birkel, Ph.D., in an interview with Mater Dei Radio.[3] That's what we at Catholic Charities have seen during our outreach trips to southern Oregon. The fires consumed entire homes and acres of land. Whole communities were destroyed. People's livelihoods are gone, their futures uncertain. Many of the people and families impacted are not able to rebuild on their own, and questions race through their minds: Where are we going to live? Will we be employed again?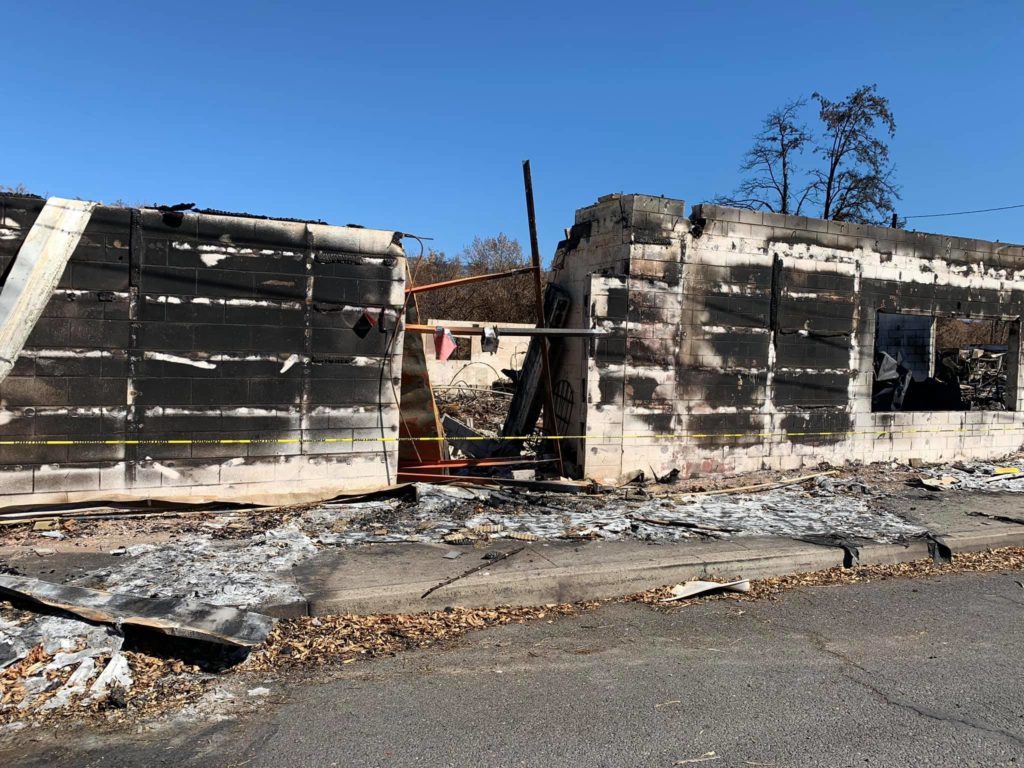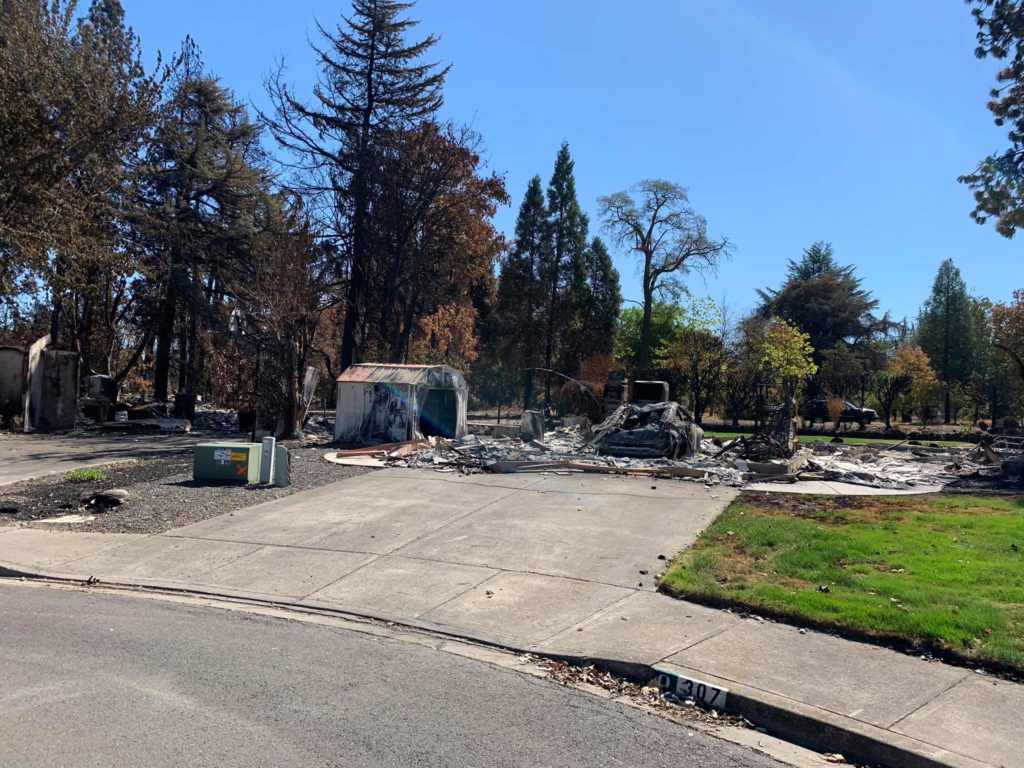 A Responsibility to Help Our Neighbors
Catholic Charities of Oregon has been supporting disaster relief efforts in cities across western and southern Oregon, particularly Medford, Phoenix, and Talent. "We see ourselves as a leading domestic agency in times like this, creating the protective fabric that people need in weathering a crisis," said Deacon Rick Birkel, Ph.D. Our dedicated housing entity—Caritas Housing—our Immigration Legal Services team, and staff members from Save First Financial Wellness traveled to southern Oregon in September and October to assess the damage and immediate needs, provide food, supplies, clothing, Visa gift cards, and hygiene supplies and to conduct legal clinics to reissue lost documentation for immigrant communities.
During our outreach, Sacred Heart Parish in Medford informed us that over 150 parish families lost their homes and thousands more are currently displaced. Most of those affected are Latino, concerned most about the loss of their immigration documentation to the fires.
Among those critical documents, people have lost paperwork showing that they are in the process of obtaining citizenship, green cards, naturalization records, employment authorizations, U.S. Passports, and more. Issuance of duplicate records is not immediate and can cost up to $700 per document, so Catholic Charities is providing financial assistance to cover those expenses. Our Immigration Legal Services team is also working with United States Citizenship and Immigration Services to reissue legal documentation and to help families fill out applications.
The team also coordinated with a pro bono attorney who helps people file petitions and complete applications to replace destroyed documents. Read a first-hand account from John Herrera, Catholic Charities' Director of Immigration Legal Services. Our ability to collect and distribute funds to vulnerable Oregonians is made possible by our Save First Financial Wellness program, which was also onsite providing emergency assistance dollars to wildfire victims for food, clothing, hygiene items, housing, and more. Cynthia Molina, Save First's Assistant Director of Emergency and Navigation Services, shares her story.
Catholic Charities has assisted scores of families with their housing, financial, and legal needs. Here are a few of their stories:
A family of six (two parents and four children) and a family of three (dad and two children) lost their homes to the wildfires. Because neither family was able to qualify for a home loan on their own, nor has either found an apartment they could afford, they plan to share a home. Together they were approved for a pre-manufactured home loan but had to spend their entire savings on the down payment. To alleviate the stress of making ends meet, our Save First program will assist with the first mortgage payment. Tearful, the clients were grateful for our support and remain hopeful.
Another family of six lost their home and legal documents. Our Immigration Legal Services team helped replace that documentation, and our Save First team paid for new paperwork, including an I-90 form and U.S. Passports. Amid so much uncertainty, the family can now rest a little easier.
The major upheaval in thousands of people's lives has caused incredible demand for—and shortage of—affordable housing. Save First is helping a family of four (two adults and two children) look for housing, despite countless waitlists.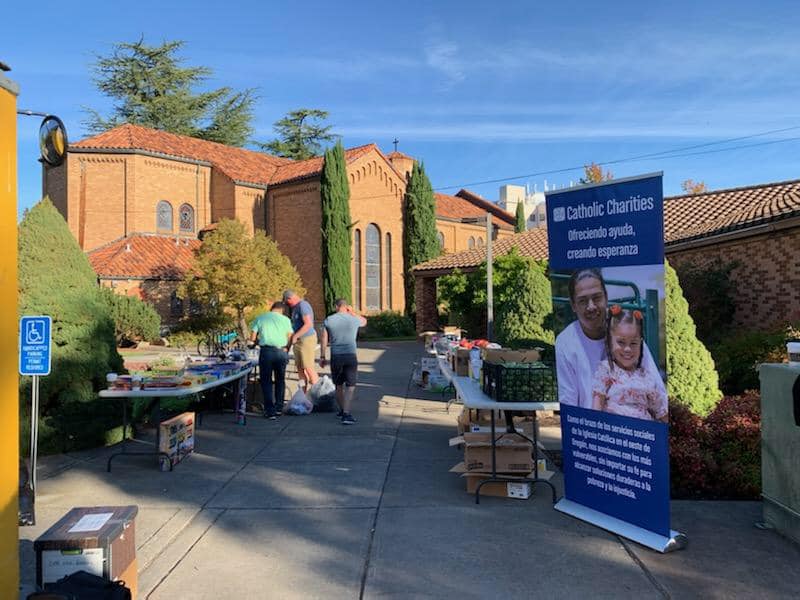 In the meantime, our Save First program is providing the family other resources, including food, clothing, counseling referrals, and financial support for temporary shelter. Once the family finds a permanent home, we will cover a portion of their moving costs, too.
The day-to-day needs of these people are many, and we continue to help the wildfire victims search for housing, food, clothing, and transportation. Some are struggling to pay rent, and still others are trying to find emotional support for their young children and themselves. Beyond damage assessments and providing supplies, we call on clients' behalves if they are illiterate, monolingual, or have trouble navigating housing, banking, welfare, insurance and/or legal systems. We've delivered wheelchairs, given referrals for mental health services, provided financial education, paid urgent bills, and covered clients' housing payments. We also talk to insurance companies to help process claims, as many of them have initially been denied.
Catholic Charities' Evolving Role
We continue to listen to the stories and needs of those who have been left houseless or indefinitely displaced. We've learned that, despite their incredible losses amid an already stressful year, our clients are resilient and hopeful. Because of Catholic Charities' ability to provide direct assistance, thousands of individuals and families can focus on rebuilding their lives and regaining their independence. But the journey toward full recovery is a long road ahead, and Catholic Charities of Oregon is but one piece of the puzzle.
This crisis is a social justice issue, and these families have a long road to rebuild and recover what they lost. We've partnered with local and national organizations and parishes. We're collaborating with local service providers in Jackson County to fill service gaps, we are in conversations with FEMA to organize disaster relief, and we have been active partners with Catholic Charities USA.
The Archdiocese of Portland in Oregon and people like Sister Imelda—the Latino ministry coordinator at Sacred Heart Catholic Church in Medford—have been instrumental in communicating with the Latino parishes and community. Watch our video to see our work and the work of our partners thus far to help our fellow Oregonians regain their stability and well-being.
We don't have all the answers and haven't figured out our long-term response to this crisis yet. We are still grappling with the "What now?" and how our agency can best serve this community. But we are committed to developing our response and supporting them, no matter how long it takes.
In the meantime, thank you for your continued support and partnership. Your donations and generosity have allowed us to provide food, clothing, hygiene supplies, trauma support, and assistance for financial, housing, and legal challenges these families are facing.
Sources:
[1] Federal Emergency Management Agency. (2020, September 12). Oregon Wildfires (EM3542-OR). FEMA. https://www.fema.gov/disaster/3542
[2] Oregon Office of Emergency Management. (2020). Oregon Wildfire Response and Recovery Overview. Experience. https://experience.arcgis.com/experience/6c42bf 70be214725b8dd0de8d407eca9/page/page_0/? views=view_2
[3] Aikin, B. (host). (2020 October 2). Morning Blend Guest: Deacon Rick Birkel, Catholic Charities of Oregon [radio interview]. In P. Ryan (executive producer). Morning Blend . Portland, Oregon: Mater Dei Radio