SALEM — Since late 2020, Oregon has provided long-term shelter in Jackson County to survivors of the 2020 Labor Day wildfires. With the help of organizations like Catholic Charities of Oregon, remaining survivors this spring were able to move out of shelters into their own homes.
But case management offered by Catholic Charities continues.
Oregon's Emergency Operations Plan charges the state Department of Human Resources with supporting the food and shelter needs of people in Oregon during large-scale emergencies and recovery from disasters.
More than 800 wildfire survivors received long-term shelter, healthy meals and access to recovery support from disaster case managers.
"Our ability to shelter, feed and support so many survivors of the 2020 Labor Day wildfires was only possible due to successful collaboration with community-based organizations," said Fariborz Pakseresht, director of the department.
Disaster case management from Catholic Charities has proven pivotal. Navigating local, state and federal recovery systems is complex and can be traumatizing for survivors. Case managers have worked with survivors to ease the way.
"Those Oregonians lost everything and experienced a lot of trauma," said Natalie M. Wood, executive director of Catholic Charities of Oregon. "Our experts knew that and worked hard to soothe fears and open doors."
Other agencies also stepped forward.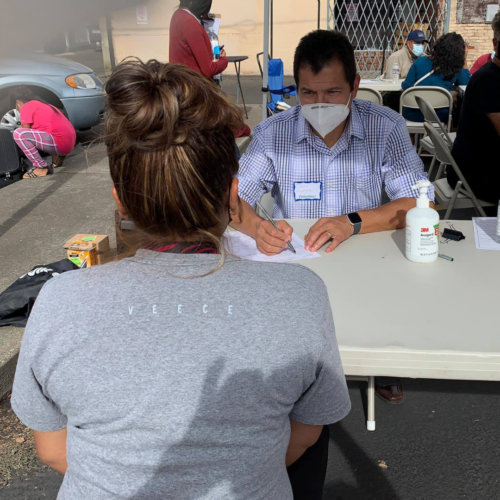 John Herrera of Catholic Charities meets with a fire survivor in Medford, Oregon. 
Fortify Holdings purchased four hotels in Medford that were then used by state emergency managers to provide long-term shelter to survivors.
Rogue Food Unites provided three meals a day at the hotels.
Rogue Community Health worked with all survivors to identify and solve additional barriers during their recovery.
Now that survivors are in their homes, the state will end its sheltering work in Jackson County. But the area is not yet fully recovered. Ninety-one individuals continue to receive disaster case management to address continuing recovery needs.
Sacred Heart Parish in Medford and other churches also provided much support to fire survivors over the long haul.