Catholic Charities lauds Joe Weston at fundraising gala, a night that raised
more than $600,000 for the neediest Oregonians.
Catholic Charities of Oregon gave its highest honor April 21 to Portland real estate developer Joe Weston.
In an acceptance speech, Weston said philanthropy requires not only cash, but those who step forward to give time and talent.
"If you have money but don't have volunteers, you have nothing," Weston told a crowd of more than 400 gathered at the Portland Art Museum.
Weston grew up poor in Portland but saved money from a job at Franz Bakery to buy his first duplex in the 1950s while a student at Central Catholic High School. Now, he owns and manages buildings throughout the region, many of them apartments for working families of modest income.
A monumental supporter of Catholic Charities and other good causes in the Portland area, Weston has announced that the bulk of his wealth will go into his foundation after he dies. His foundation already has given more than $200 million over the past three decades and after Weston's death, it will have assets of about $3 billion for more good works.
"He had nothing. He achieved enormous wealth, and he doesn't want it for himself," said George Passadore, a friend who serves as a trustee for the Joseph E. Weston Public Foundation.
Max Williams, past president and CEO of the Oregon Community Foundation, which manages the fund, said Weston's philanthropy is linked to his Catholic values. "He lives the social Catholic mindset of giving back to the community and doing good to those who need it," Williams explained.
"He is pretty crusty but underneath that he has a heart of gold," said Auxiliary Bishop Peter Smith of the Archdiocese of Portland. "Catholic Charities of Oregon helps the poorest and the most vulnerable. This is what Joe is doing, too."
Marilyn Weston, the former wife who has remained a good friend, calls Weston a saint. "He is such a good man who worked so hard and rarely even let himself really enjoy life. But he gets joy from giving."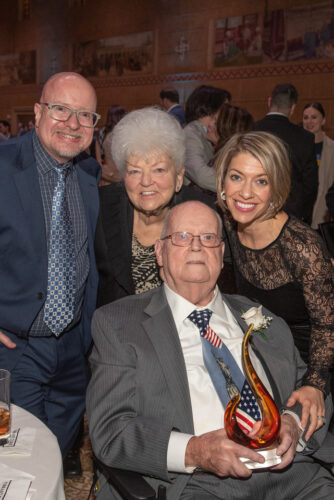 [Jeff, Marilyn, Tiffany, and Joe Weston holding his Single Candle Award.] 
His children, Tiffany and Jeff, love and admire him. Jeff said that though Weston was busy with work, he always had time for his children.
Tiffany hopes she can pass his spirit of generosity to her child and stepchild. "The greatest impact my father had on me was teaching me to be of service to all others," she said.
"Joe Weston has a magnanimous heart," said Msgr. Tim Murphy, the President Emeritus of Central Catholic High School who has known Weston since grade school at All Saints Parish.
When Msgr. Murphy thinks of the hardworking Weston, a parable comes to mind. Jesus told the tale of workers in a vineyard, some of whom worked all day and others who showed up late in the afternoon, but who all received the same wage.
"Joe would whisper in the Lord's ear," Msgr. Murphy said. "It's OK. Give everybody the same."
Before the crowd honored Weston, they donated more than $600,000 to Catholic Charities, which now is focused on Oregon's homelessness and housing crises, plus refugee resettlement.
Catholic Charities outreach workers go to camps in Portland to work with houseless people and begin a path to housing and self-sufficiency. The agency offers a drop-in center for homeless women. Catholic Charities is a major provider of transitional housing with services, a key step in helping people move from the streets to permanent housing. Catholic Charities also has developed and manages more than 800 units of affordable housing in western Oregon.
"Housing is not a commodity. It is a basic human right that goes beyond physical shelter," said Natalie M. Wood, executive director of Catholic Charities of Oregon. "While we continue to help by providing housing and the necessary wraparound services, we must come together to address the complex social challenges that keep far too many Oregonians from achieving the fullness of life God intended for them."
The crowd gave Wood an ovation for that comment. Later, it gave a standing ovation to a Ukrainian refugee who escaped the war in her homeland and is building a life in Portland.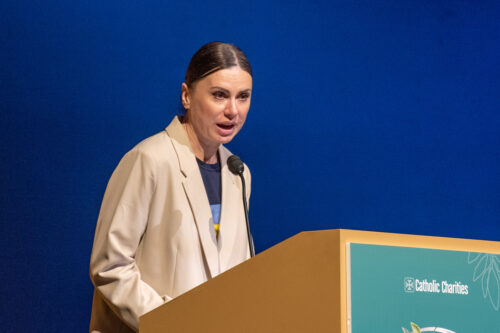 [Olena Leschynska giving a heartfelt thank you for the support she's received from Catholic Charities of Oregon.]
"Catholic Charities has come alongside us during this terrifying journey," said Olena Leshchynska, who sheltered with her teen daughter in a Kyiv basement when Russian bombs started pounding the city. "Catholic Charities has calmed our fears. And helped us to process, reorient, connect and navigate this new reality. We have formed community, learned English and found work. Though we hurt, we feel hope."
A team of local donors sponsored the Celebration of Hope gala to build up the work of Catholic Charities.
Platinum sponsors were The Archdiocese of Portland in Oregon; B.P., Lester and Regina John Foundation; PeaceHealth; Colleen and Werner Nistler and Touchmark; and Walsh Construction Company.