Two Catholic Charities housing developments are up for awards in the 2023 TopProjects competition. The Daily Journal of Commerce contest recognizes the best buildings put up in the past year in Oregon and Southwest Washington.
Cathedral Village Apartments stand close to the Willamette River and in the shadow of Portland's iconic St. Johns Bridge. Built by LMC Construction, the 110 units are home to residents like a retired school bus driver and a formerly homeless mother of four.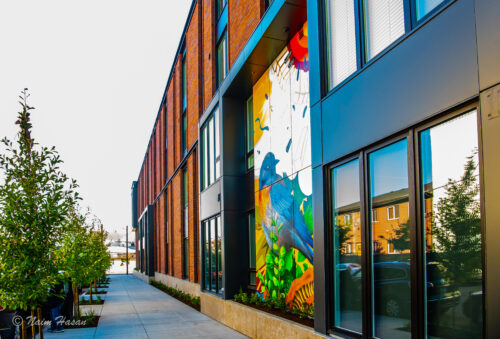 Cathedral Village offers 110 low-cost apartments in a trendy neighborhood of North Portland. It's walking distance from a grocery store and other businesses.
"People are looking for more than just housing," Catholic Charities executive director Natalie M. Wood said during a dedication ceremony at the North Portland building in fall 2022. "These units are a place to stay dry when it's raining, a place to gather around a table to break bread with family and friends, a warm place to sleep when it's cold and a safe place to learn English, math and science."
Cathedral Village includes environmental touches like solar panels. It earned a platinum certification from Portland Housing Bureau's Green Standards program.
Chiles House, built by Truebeck Construction, stands alongside Catholic Charities headquarters in Southeast Portland. It offers 27 units of transitional housing to those who have experienced homelessness or who are at risk of losing their homes. It includes features that call people forth to communal living but also allows them their own space. Since exposed wood and natural light have been proven good for mental health, Chiles House has plenty of both.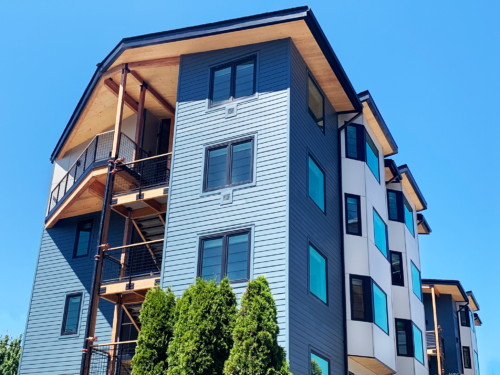 Chiles House, alongside Catholic Charities headquarters, was built with plenty of exposed wood and paths for natural light, both of which have been show to aid in mental health. 
"Folks who are skirting homelessness, who are experiencing housing insecurity, are often in a heightened state of distress and we wanted to create a space where they can rest and where they could heal," said Anna Mackay, principal of Sister City, a developer that joined as a partner in the project. "It's not only who we serve, where we can be uplifting, but also how we deliver the housing."
In addition to living space, Cathedral Village and Chiles House offer services aimed at keeping people housed and helping them increase their self-sufficiency, including case management.
The two buildings are among 72 finalists under consideration. Prizes will be announced at the TopProjects event, set for June 1 4:30 ­- 8 p.m. at the Oregon Convention Center. The contest, began two decades ago, has become a local building industry tradition.