On Sunday, June 25, in partnership with the University of Portland, Catholic Charities of Oregon hosted Fr. Greg Boyle for an evening of inspirational storytelling.
During Mass at a California juvenile detention center, Jesuit Father Greg Boyle's ears perked up when the reader uttered an unintentional malapropism. Instead of saying "Our God is exalted," the lector said, "Our God is exhausted."
"I remember thinking at the time, 'Wow. That's way better,'" Father Boyle told a crowd of 300 gathered June 25 at the University of Portland. Catholic Charities of Oregon organized the talk, hoping to influence public conversation about spirituality and poverty.
Father Boyle is founder of Los Angeles-based Homeboy Industries, which in 35 years has become the largest aid organization for former gang members, focusing on those who are just exiting prison. The project creates jobs and forms community in enterprises like Homeboy Bakery and a clothing line. The priest's method is simple: Shower the most feared members of society with tenderness, the way God does.
"You know what exhausted is," Father Boyle told listeners. "It's other-centered. It's loving-centered." He evoked the image of happy grandparents after a weekend with the grandkids.
"It's a good tired."
Once people understand that God, like a grandparent, yearns for us and is accepting and caring, they will reflect that love in the world. Then, the priest said, lives are transformed.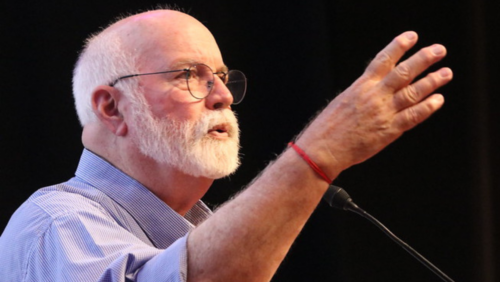 "At Homeboy we are allergic to the idea of holding the bar up and asking folks to measure up, mainly because our exhausted God never does this," Father Boyle said. "Instead, we hold the mirror up and We say, 'You're exactly what God had in mind when God made you.'"
He added, "At Homeboy we want people to see their truth
that they're unshakably good and that they belong."
The evening included big laughs, including the tale of Father Boyle asking eight nuns if they'd consider vacating a Los Angeles convent to make room for a school for young gang members. What could they say?
"The looked at each other and said, 'Sure.'" Father Boyle said. "That was pretty much the extent of their discernment."
The crowd also guffawed when Father Boyle confessed that "Homeboy Plumbing" was one of the social enterprises that fizzled.
Stars of the evening were Vincent Vigil and Christian Narvaez, two former gang members who graduated from the Homeboy program and are building successful lives.
Vigil, 59, spent 32 years in prison but now is a staff member at Homeboy and about to begin a degree program in social work. Vigil told the story of being abandoned by his father and seeking refuge in drugs and gang life. He was arrested for the first time at age 12.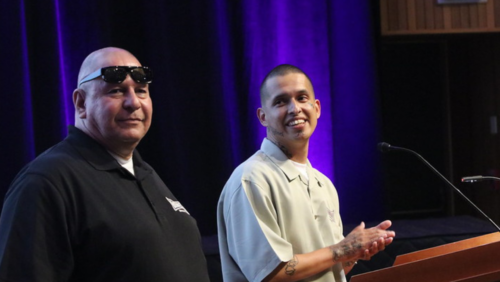 Narvaez, 31, has earned certification as a peer addiction counselor and has started using Father Boyle's radical tenderness on his former gang rivals, telling them he loves them.
"I have said this to dudes, that, man, I hate," Narvaez told the crowd.
The crowd burst into applause frequently when the two former gang members were speaking.
Natalie M. Wood, executive director of Catholic Charites of Oregon, introduced Father Boyle. She had just read the new compilation of his writings, "Forgive Everyone Everything."
"These pages engulfed me in a love so true, so compassionate and so tender that I wanted nothing more than to stay engulfed in that love," Wood said. "And it helped me to remember how much God longs for a relationship with each of us and how so many times it's our own feelings of guilt, shame and unworthiness that keep us from experiencing that relationship."
Father Boyle got some stares when he said, "We need a better God than the one we have." He explained that people often impose their own thoughts and desires on their image of God instead of accepting God as revealed by Jesus. That true God operates in "inclusion, nonviolence, unconditional loving tenderness and compassionate acceptance," Father Boyle said.
He told listeners that a society is measured by its ability to stand in awe at the burdens carried by the poor instead of standing in judgment of how the poor carry their burdens.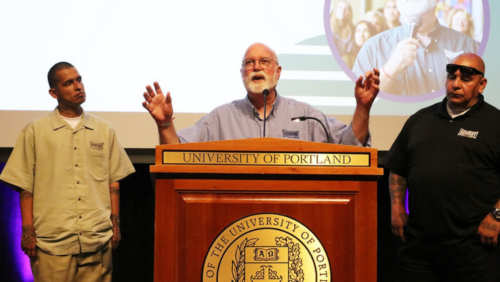 "Every single man or woman who walks through our doors comes barricaded behind a wall of shame and disgrace," Father Boyle said. "And the only thing that can scale that wall is tenderness.
Sponsors for Father Boyle's visit included University of Portland, Jesuits West and Henkels & McCoy