It's knowledge they hope they'll never need to use.
Natalie Wood, executive director of Catholic Charities of Oregon, and Nicole Sherriffs, senior human resources manager, attended a mid-August regional training on responding to disasters.
The agency mounted a major response after wildfires devastated Oregon in 2020 and 2021. Now, it's poised to restart disaster services should more fires wreak havoc or earthquakes or floods arrive.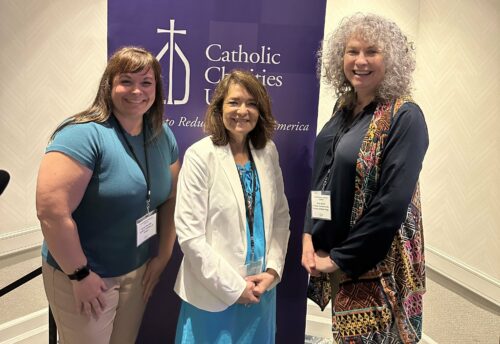 Nicole Sherriffs and Natalie Wood of Catholic Charities of Oregon pose with Carol Spruell of Catholic Charities Diocese of Baton Rouge.
The 2023 Catholic Charities USA Disaster Academy took place Aug. 15-17 in San Jose, Calif. And drew more than 100 Catholic Charities staff from Oregon, California, Washington and Nevada.
"This was a fantastic conference," Natalie said. "I learned so much about the emergency response and recovery here in the West. It was a great time to meet with peers and learn what other organizations had done. One of my biggest takeaways was what a great job Catholic Charities did in such a challenging time."
Nicole affirmed that last point.
"CCO is one of the top three disaster response agencies and we are the only ones that stick around for the long haul doing long term recovery and case management," she said.
The academy explained cooperation among agencies like FEMA and VOADs: Voluntary Organizations Active in Disaster, on the national, state and local levels. Sessions examined best practices in case management.
Long term housing, a Catholic Charities specialty, has proven one of the most difficult challenges after disasters. After fires in their region, Catholic Charities of San Jose leases apartments and then subleases to tenants. Another Catholic Charities agency rents a hotel. For permanent housing, agencies responded by getting active in affordable housing development. That's expertise Catholic Charities of Oregon brings to the table.
"Long-term housing needs are most often a critical issue for clients' recovery, and they can take years to be resolved," Natalie said. "Collaboration and innovation are key to responding to housing needs."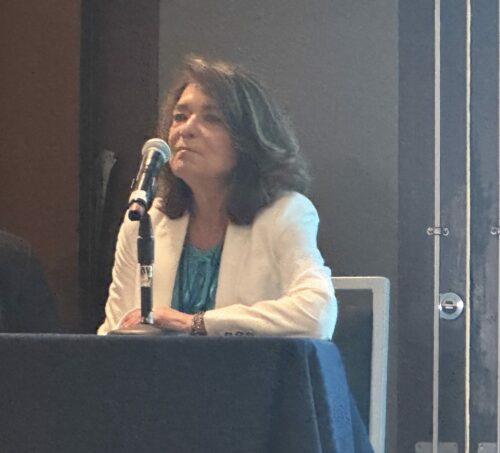 Natalie Wood speaks at a workshop entitled "Are You Ready for the Big One?" with Katie Oldaker of Catholic Charities USA and Greg Kepferle, executive director of Catholic Charities of Santa Clara County, California.
Another session focused on domestic terrorism and the need for agencies to have safety plans. Catholic Charities of Oregon has a safety plan that Natalie plans to review.
Natalie was part of a panel that led a session called "Are you ready for the Big One?" focused on earthquake preparedness.
One workshop taught ways Catholic Charities agencies can engage parishes in disaster preparedness. Nicole said she and Susan Petitt, director of human resources for Catholic Charities of Oregon, will devise a plan for training staff and helping parishes take advantage of resources.
Disaster can be a depressing area of work, so staff need to have fun. The academy session on basics was set up as a Jeopardy match, and Natalie's team was victorious.
Father Thomas Ryan, of the Diocese of Metuchen, NJ, led a session on spiritual care and self-care during disasters.
"God doesn't need a defense attorney, he needs us to just listen," Father Ryan told listeners. Often, disaster survivors blame or question God, making some service providers feel they need to defend the Almighty.
On self-care, Nicole said the aim of caregivers is to be changed but not damaged by disaster response.
"We absorb so much around us like sponges that we need to use different strategies to take care of ourselves and others," she said. Ideas include speaking with other caregivers; making sure to eat, drink and sleep; taking breaks; staying updated on information; checking in with yourself; and honoring your service.
Nicole also appreciated a session on preparing volunteers for possible future disasters.
---
At the August Catholic Charities USA Disaster Academy in San Jose, California, Natalie and Nicole learned key facts everyone can use:
– Food is good only for 48 hours after a refrigerator has lost electricity.
– Everyone should have three days' worth of food on hand.
Here is a link to information on personal and parish emergency preparedness:
www.catholiccharitiesusa.org/resource/cdpp/