Antoinette is a Catholic Charities Board member and senior regulatory affairs specialist at Cambia Health Solutions. She was a young girl when she immigrated to the United States from Ghana, West Africa.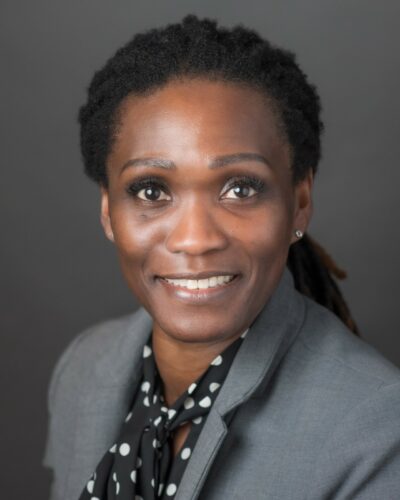 The men in Antoinette Awuakye's life have had a profound impact on her Catholic faith. Her grandfather Kwame, while a young man in Ghana, helped Catholic missionaries translate English into the local language. After working with the missionaries, Kwame became Catholic, and every member of his family followed him into the church.
Antoinette's father John grew up attending Catholic schools and took his faith seriously. As a high ranking official in the Ghana military, he led a somewhat privileged life. The family had a residence provided for them as well as maids and drivers. But as a man of faith and conscience, John could not accept a military coup that overthrew the established government.  Jerry Rawlings, who was in control of the military junta at the time, was known for executions by firing squad.  Officers in the military who opposed Rawlings' military coup were executed.  John opposed the military coup and could face this fate.  However, rather than face execution, he was accused of being an American spy and was exiled in retaliation. With the cooperation of the CIA, he was granted asylum in Virginia but had to leave his wife and three young children behind. He was told that their protection could not be guaranteed.
As a result of John's exile, the family lost their home, privileges and many friends. Antoinette's parents insulated their children from what was happening. Her mom Esther bore the stress alone while anxiously waiting to hear when they could leave the country and rejoin John. After about eight months and two failed attempts, they were finally on a plane bound for Virginia. Antoinette was 12 .
"It was such a beautiful homecoming to see him," said Antoinette. "We were finally safe and together again as a family."
She recalls that not long after they arrived in the U.S., her youngest sister Kizita was rushed to the emergency room. After several weeks in the hospital, she was diagnosed with sickle cell anemia. If they had not come to the U.S. and received such good medical care, Kizita would have died.
"God chose us to go through this and we are here for a reason," said Antoinette. "We were forced to leave our country, but we were able to experience something so much better."
Having to start over, her father went back to school to earn a degree in computer science. Money was tight but he made sure his children were enrolled in Catholic schools as they had been in Ghana.
During college at George Mason University in northern Virginia, Antoinette thrived academically but she lost connection with her Catholic faith. Years later, after moving to Oregon for work and law school, she met a man who would change all that.
"I met my future husband Blayne who is Catholic, and it was always expected that I would marry a Catholic," said Antoinette. "At that point I felt there was something missing in my life, and I was drawn back to my Catholic faith. I found my connection to God again and Blayne and I grew together in our faith."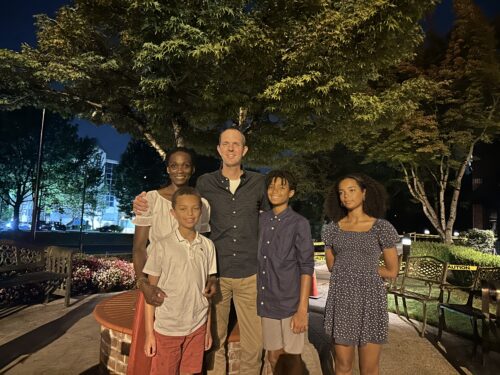 Antoinette Awuakye and husband Blayne with their children.
Antoinette's parents still live in Virginia and her father's faith is stronger than ever. After years of living in exile, there was a democratic change in government.  In 2001, John was finally exonerated when John Agyekum Kufour became the democratically elected president of Ghana. President Kufour established a national commission to look into those who had been exiled during previous coups.  John appeared before the commission to present his case and successfully defended himself.  Finally, with his honor restored, John was allowed back into the country,
"I believe God had a plan for us and he continues to walk with me," said Antoinette. "My faith, which was passed down from my grandfather to my father to me, helps me stay on that path. I love who we are as Catholics and my husband and I are passionate about passing that on to our children."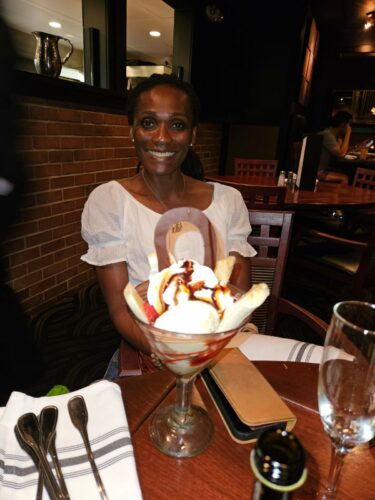 Antoinette Awuakye prepares to dig in to an ice cream sundae.
Antoinette and Blayne are active parishioners at Our Lady of the Lake Parish in Lake Oswego where two of their children attend grade school. Their oldest daughter is at Jesuit High School. Antoinette credits her pastor, Father John Kerns for fostering a sense of belonging, helping her "find her space" and feeling at home in the parish.
Her father's exile began a journey her family never expected. Forced to leave their homeland, they trusted in God's plan and found health, happiness and redemption in a new life.
"God is in everyone's story and has a plan especially during the hardest times," said Antoinette.  "He was in my story.  He had a plan for us all along and my parents never lost faith. We are forever grateful."