Urgent need: Baby wipes 
When young families go shopping, Catholic Charities of Oregon wants to make sure they don't need to choose between food and diapers.
That's why the agency is grateful for the support of PDX Diaper Bank, which provides boxes of free diapers for families being helped by Catholic Charities' Refugee & Family Services.
"If we can help a family go to the grocery store and they don't have to decide between eggs and diapers, that is our goal," said Hilda Guerrero, a family services case manager at Catholic Charities.
Inflation has left the supply of affordable diapers, and especially the moist cleanup towelettes, well, wiped out. The cost of diapers and wipes increased 11% over the past two years, according to the U.S. Bureau of Labor Statistics.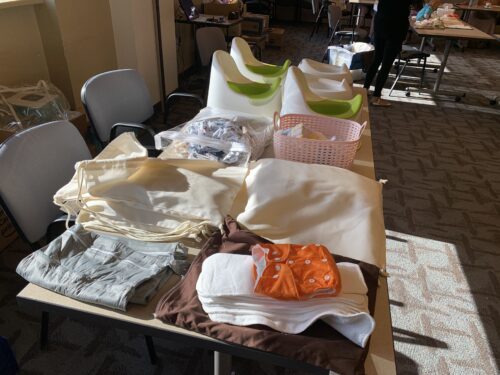 Baby clothing and training potties rest on a table during a June training on diapers hosted by Catholic Charities of Oregon.
To supplement the supply of disposable diapers, PDX Diaper Bank and Catholic Charities team up now and then to hold classes that teach parents how to use cloth diapers – a facet of parenthood past that is making a comeback. Not only are cloth diapers better for the environment, but they are ultimately cheaper and reusable.
Past cloth diaper classes had been lightly attended, but a June session at Catholic Charities drew 10 parents with 11 children along. The youngsters brought joy and giggles to the proceedings and allowed parents to practice the newfound skills of folding, wrapping and securing diapers on a wiggly subject.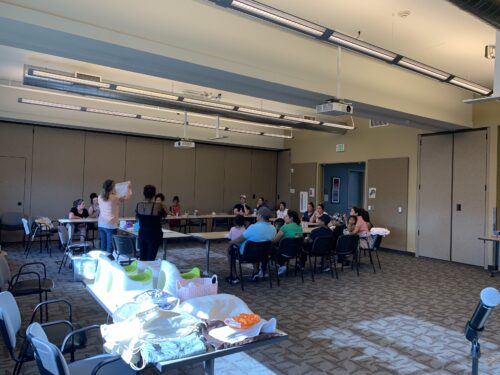 Families listen to a lesson on using cloth diapers during a June class at Catholic Charities of Oregon. The class was offered in English and Spanish.
Parents who attended got snacks, prizes and starter packs of diapers and other baby supplies. There were even a few training potties to give out, which created excitement in young and old. The class was offered in English and Spanish.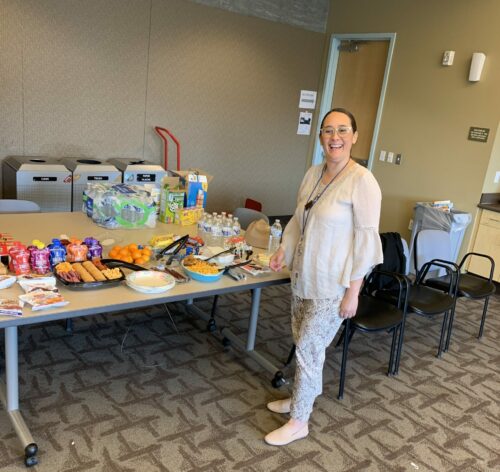 Hilda Guerrero, a family services case manager with Catholic Charities of Oregon, stands near a table of snacks for families attending a June workshop on cloth diapers.
"We want families to know that in an emergency, when you run out of diapers, you have that resource of cloth diapers," said Guerrero, who knows of what she speaks. Her two children have grown out of diapers, but she has distinct memories.
Younger parents may find the idea of cloth diapers daunting, so the class shows them that it's not rocket science. Guerrero also tells them that it's ok to use cloth sometimes and disposable sometimes. No judgment.
After the class, all the parents said they planned to give cloth diapers a try.
"We're grateful to PDX Diaper Bank for leading the cloth diaper class, and for their ongoing donations of diapers for our families," said Sally Erickson, supportive services manager for Catholic Charities of Oregon.
————————————-
Wiped out
Inflation has made baby wipes so costly that the PDX Diaper Bank has stopped offering them. That means wipes are in high demand among the families Catholic Charities serves. Hilda Guerrero, a family services case manager with Catholic Charities, said donations of wipes would be a big help.
Also in low supply are diapers in sizes 4, 5 and 6.
Donations of diapers and wipes can be brought to Catholic Charities, 2740 SE Powell Blvd. in Portland, or donated via the agency's Traveling Crib program. If your business or parish is interested in hosting the Traveling Crib to collect donations of baby supplies, please email FamilySupport@ccoregon.org or call Hilda Guerrero at 503-688-2587.