Daily encounters with fascinating families from around the world have transformed a grateful team of volunteers from St. Ignatius Parish in Southeast Portland. 
Since 2018, the parish has used a spare building to house refugees being served by Catholic Charities of Oregon. Tibbetts House, with five bedrooms, is a temporary wayside used while refugees and their case managers locate permanent housing.
Families from troubled regions of Africa, Asia, Latin America and Europe consider Tibbetts House their first American home. "In the house we feel safe and secure because we know we're in good hands," said Charité Betolaum, adult daughter in a family of nine from the Central African Republic. 
The family narrowly escaped a deadly civil war in their homeland. "We were compelled to leave because the war had escalated," explained Élodie Betoloun, the mother. "There was nowhere to go. Whether you go left or right you are being chased." The Betolaums made it to Cameroon to wait for processing. There, in a refugee camp, they suffered illness, injury, overcrowding and filth.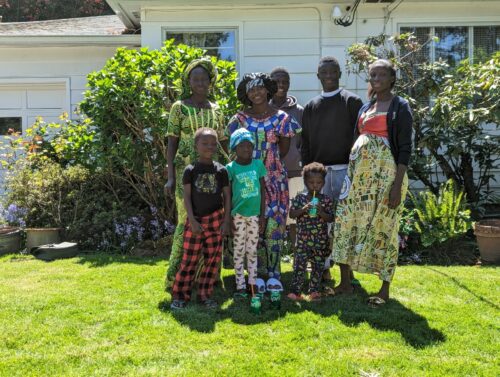 A family from Central African Republic poses outside Tibbetts House, a home where St. Ignatius Parish hosts and serves refugees.    
Now, Élodie is over the moon about Tibbetts House, which she said was amazed to find is free of mice, mosquitoes, roaches and snakes. The family laughs, plays sports and has a good time with American hosts. 
"Our experience with Catholic Charities is that they are very good people who have taken very good care of us," Charité said, citing financial help, clean water, food, healthcare guidance and classes on managing everyday life in Oregon. "Our wish here is to be cured of our illness, to be stable, to be at peace and to live normally like other people in this country." 
Kerri Babin, volunteer and coordinator of Tibbetts House, said the ministry links world news with human beings.  
"Working with Tibbetts House brings you a deep connection to how your individual community is connected to global politics in a way that you don't necessarily see otherwise," said Babin, a member of St. Ignatius since 2007. "You see the human impact of what happens in the world." 
In 2017, when refugees and immigrants were withstanding withering criticism in the U.S., the Jesuits who serve St. Ignatius Parish responded by asking parishioners to consider hosting refugees. The first family arrived in 2018. Volunteers quickly learned one of the maxims of ministry: You think you are the helper but find it's a two-way street.  
For example, Babin said the relationship with refugees brings major benefits to her own children. "This has been huge in helping them to understand that they are part of global community and not just a small local community," Babin explained. In addition, she said, children worldwide just know how to share joy, whether it's games or stories or jokes, even if they've been through trauma. "Kids don't see walls, they see openings," Babin said.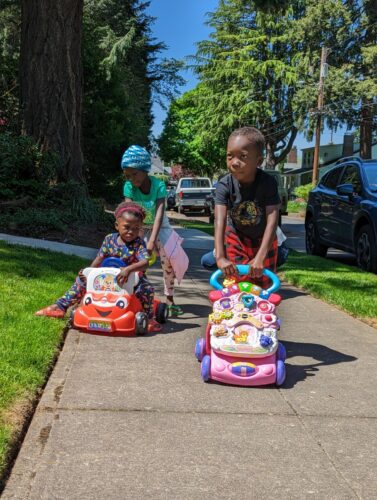 Children who live in Tibbetts house use the sidewalk as a fun roadway.
"When a family first arrives, there is so much anxiety," said Babin. The refugees are trying to cope with past trauma while experiencing the inevitable disillusionment about what the United States is like compared to their expectations. In addition, refugees have many details over which to fret.  
"So, we try to help families have fun and be distracted," Babin explained, adding that often, people under stress need listeners, not fixers.  
Michael Shin, another Tibbetts House volunteer, keeps in mind his parents' stories about the fears and trials of inculturation. They emigrated to the U.S. from Korea.  
"I've been so impressed and amazed by the resilience and strength of these families," Shin said. "They don't want to be in the position of receiving charity; they want to be independent and help us. It really allows for this relationship to flourish and be really really rewarding." 
Shin fondly recalls helping a teen girl from a refugee family learn to ride a bicycle. "It was an amazing experience to see the joy on her face," he said.  
Jim Gradoville, a member of the parish for four years and a Tibbetts House volunteer, urges other churches to consider using spare space for refugee housing.  
"It's going to add a lot to your parish in terms of diversity, in terms of pride," Gradoville said, explaining that new worshippers may want to join a church that so clearly is doing God's work. "It's amazing what you can get done even when you don't speak the language." 
Babin knows it's important to donate to good causes, but said it feels right to act as part of everyday life to do good, since that is "living what you believe." 
"This is an incredible story of hope," said Jesuit Father Mike Moynahan, pastor of St. Ignatius.  
Father Moynahan shared a video about Tibbetts House with Father Sean Carroll, provincial superior of the Jesuits in the western United States.  
Father Carroll responded: "It is a great testament to the important work that St. Ignatius and Catholic Charities have done for refugee families through Tibbetts House."