Students from local law schools who volunteer with Catholic Charities of Oregon Immigration Legal Services assist immigrants, asylees, refugees, recent arrivals from Afghanistan, and survivors of serious crimes, all while learning from the agency's immigration lawyers. Students can earn school credit through an externship under the supervision of a Catholic Charities attorney or serve as interns. Opportunities are available both during the school year and the summer.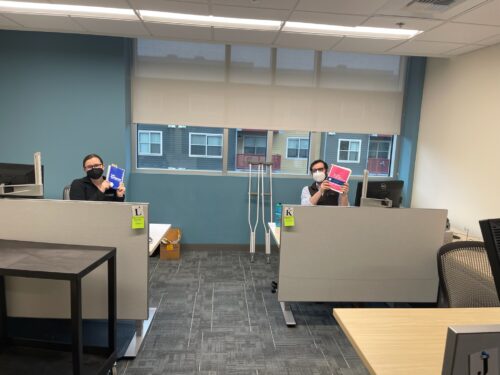 Lewis & Clark law students Heather Perkins and James Plunkett hold up legal tomes while doing research for clients at Catholic Charities of Oregon. The work of interns from Lewis & Clark, Willamette and University of Oregon law schools often helps survivors of domestic violence, migrants, asylees, refugees and the Afghan community to seek a legal path towards residency in the U.S. (Andreea Szabo/Catholic Charities)
It's a win-win. And we're pretty sure that's a legal term.
"It's been a great partnership between us and the law schools," says Andreea Szabo, a Catholic Charities Immigration Legal Services senior attorney who leads the Rural Program, which is funded by the Department of Justice Office on Violence Against Women. The program offers free immigration representation to Oregon rural survivors of domestic violence, sexual assault, child sex abuse and stalking. "Here, students learn to apply legal research to real life stories. It is motivating to see their enthusiasm for the work we do."
Every year, Catholic Charities Immigration Legal Services welcomes law students from Oregon's three law schools: Lewis & Clark, Willamette University College of Law and the University of Oregon. Students may be asked to research country conditions in nations from which asylum-seekers have escaped. Knowing possible threats and perils in places like Afghanistan, Colombia and Guatemala is vital for building a case for asylum. Law students may also assist attorneys with preparing immigration applications that offer a path to permanent residence for survivors of serious crimes, including sexual assault, domestic violence, and human trafficking. Working with these clients provides practical skills beyond legal research and writing, such as helping clients write declarations about the abuse they have suffered in a trauma informed manner, organizing supporting documentation, and practicing foreign language skills.
"Having law student interns helps us increase our capacity to accept more cases and help more clients," says Szabo. "It also trains future immigration lawyers, hopefully future Catholic Charities attorneys or pro bono volunteers."
The partnership with Oregon law schools will continue. The Immigration Legal Services team just took part in an annual law school public interest law fair, interviewed students, and invited them to summer internships. Their summer internship will start with a few days of introductory training in various areas of immigration law and trauma informed care, and then they'll dive in to work.
The whole Catholic Charities ILS team appreciates the extra help.
Janea Mark, staff attorney in the Catholic Charities Afghan Program, is a big fan of the law students. Mark assigned a Lewis & Clark intern to research country conditions and case law for two clients.
"The final work product was well-organized, thorough and very helpful," said Mark. "The student's research is going directly into my brief."
Mark called the student quick, efficient, inquisitive and enterprising, a good combination for a lawyer.
Kate Shattuck, a Catholic Charities staff attorney in the Removal Program, said many Lewis & Clark students have helped her with legal research to strengthen representation for asylum-seekers. One intern helped compile an index of human rights reports and country conditions for an Indigenous woman from Guatemala.
"I have used the index as a template in multiple cases," Shattuck says.
Another intern helped Shattuck research a client's eligibility under the Cuban Adjustment Act, following a new legal theory recently raised in immigration courts across the country.
"Our law students have made a tremendous difference for our clients," says John Herrera, director of Immigration Legal Services for Catholic Charities. "During their internship they see the suffering of our clients and the cumbersome processes they face."