Germaine's Kitchen Café (GKC) is a workforce development culinary training program. GKC students learn essential skills that will put them on a path to success in a professional kitchen or foodservice operation. Our program offers in-class instruction on the fundamentals and foundations of cooking along with the very important job/life skills and hands-on learning in just 16 weeks!
Our program is pace based to accommodate all the different learning styles, abilities and practices of our students, allowing them to grow their skill sets and giving them confidence to reach personal goals.
Meet our students!
Di, Trevor, and Adriana are currently in their second tier of a 4-tier program (each tier lasting 4 weeks) and have learned so much already. All three of them have professional experience in the food-service industry but, thanks to GKC's Culinary training program they finally have the opportunity to learn new skills and grow to their full potential.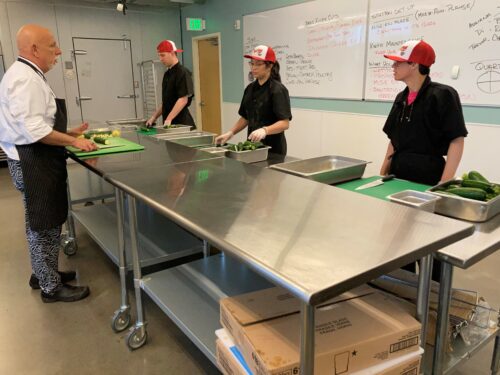 Trevor has already had the opportunity to mentor prospective students for the program's second session. When asked how he would describe the GKC Culinary training experience he shared, "[It's] a perfect blend of giving back and learning. You're giving back to the community all while learning skills that will benefit you in the future."
Trevor, a self-proclaimed basketball nerd, has already been a huge asset to the program. He's impressed Chef Jon and team with his culinary skills, enormous potential for growth, and his leadership; not only in mentoring prospective students but in supporting his peers in the program as well.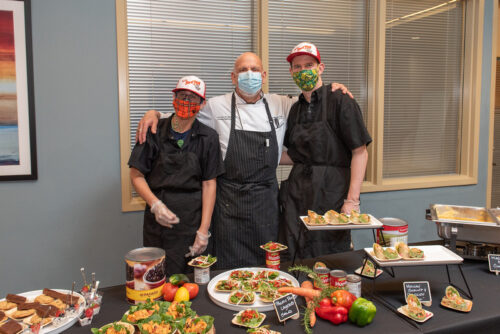 Adriana is a huge Seahawks fan as well as an avid gardener; currently growing an abundance of tomatoes, kale, zucchini, and chives to name a few. Her favorite thing to make and eat at Germaine's Kitchen and Café is pizza. While GKC is a gluten free kitchen, their pizza crust, made with a blend of gluten free flours, is absolutely delicious. Adriana never shies away from showing enthusiasm and although learning how to cook is new for her, she is excited to be a part of a program that can provide her that opportunity.
Di enjoys Chef Jon's lectures in the morning, but really looks forward to the afternoon when she and her peers get to cook something new. Personally, Di enjoys cooking fried eggs and she loves marinara sauce; something that they're learning to make from scratch. While Di is also excited for the opportunity to learn how to cook, she enjoys the consistency of dish washing. With so many new things to learn, it's nice to have a constant amidst all the excitement.
Within GKC's Culinary Training program, Di and her peers also have the opportunity to develop soft skills such as resume building, writing cover letters, participating in mock interviews and more. Readying the students for future employment opportunities in the food-service industry is a key part of GKC's programming.
In addition, Di, Adriana, and Trevor prepare over 100 hot meals daily to distribute to our unhoused neighbors in SE Portland as part of the Hot Meals for Unhoused Neighbors Initiative. We are so proud of our students and what they've accomplished so far.
Thank you, Di, Adriana, and Trevor for your incredible work. We can't wait to see what you cook up next!