Special congratulations to our first cohort of students graduating from Germaine's Kitchen and Café culinary training program. We could not be prouder!
During their 16-weeks in the program they have learned professional culinary skills such as food safety, knife skills, sanitation and more! They've also been building professional skills including time-management, resume building, and customer service.
Putting their new skills to use since day one, our students have prepared over 500 meals weekly for our unhoused neighbors in Southeast Portland; part of the Hot Meals for Unhoused Neighbors initiative of St. Francis Dining Hall.
After graduation, our students will move on to a professional kitchen or foodservice operation and continue to put their newly learned skills to use. Congratulations Adriana, Di, and Trevor!
On Friday, November 19, friends and family gathered at Germaine's Kitchen and Café (GKC) to celebrate our first cohort of students graduating from our culinary training program. This special event began with heartfelt opening remarks from Executive Director, Rick Birkel. He recalled the long journey of Germaine's Kitchen and Café and shared the story of GKC's namesake, St. Germaine Cousin [St. Germaine Cousin is the patron saint for disabled and neglected peoples along with other individuals society has historically turned its back on].
Executive Chef and Lead Instructor for Germaine's Kitchen and Café, Jon Wirtis, brought out our three students: Trevor Richen, Adriana Olvera, and Di Chen. Chef Jon warmed our hearts as he introduced each student and relived their time together; giving insight into each of their personalities, unique challenges, special skills,  and immense progress. Chef Jon beamed with pride has he presented each of them their certificate along with a gift bag including the Catholic Sentinel article highlighting the students, a cookbook signed by Bob Moore, of Bob's Red Mill, with a personal note of inspiration, and a Bob Moore bobble head.
Before the ceremony's end, Cindy Dulcich, a retired teacher and soft-skills instructor at GKC, along with GKC Program Visionary Lori Bauman, both spoke about their dream of this program and how it came to fruition. They spoke highly of each student's accomplishments during the past 16 weeks and could not have been prouder of their growth.
After the ceremony everyone gathered to partake in delicious appetizers and desserts prepared by our graduating class. The spread was served by the students of our Winter cohort. Included in the buffet was a vegetarian chili; Trevor and sous chef Silas collaborated on the recipe inspired by Trevor's dad's famous chili.
We are incredibly grateful to Trevor, Adriana, and Di for partnering with Catholic Charities of Oregon to launch this program. Special thanks to Rick Birkel, Lori Bauman, Cindy Dulcich, Jon Wirtis, Silas Hogan, and to the friends and families of Catholic Charities who have supported this program. Our sincere thanks go out to you.
Applications are open for our Spring session: January 31, 2022- May 20,2022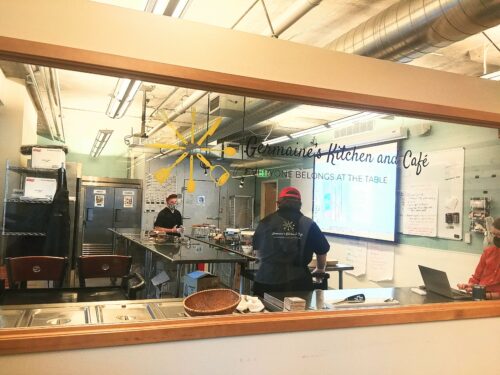 Students of our winter cohort preparing to serve a delicious spread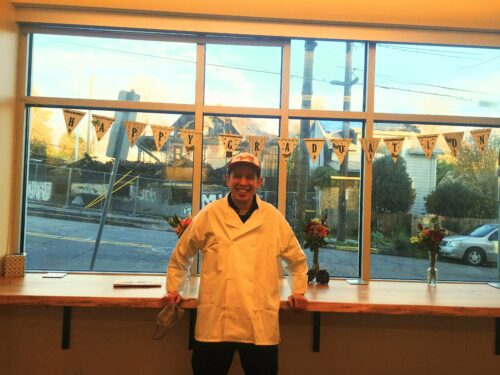 Trevor Richen standing under a "Happy Graduation" banner gifted and handmade by his mother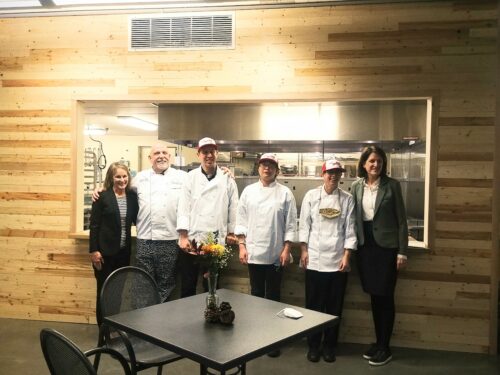 From left to right: Cindy, Jon, Trevor, Di, Adriana, and Lori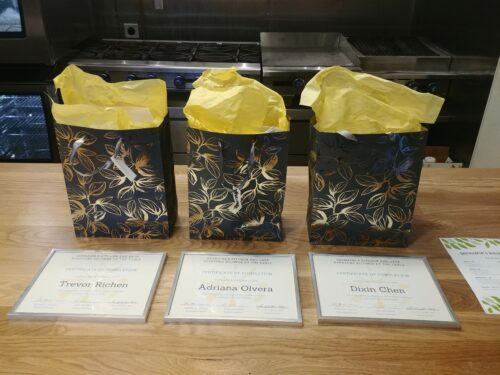 Certificates and gifts presented to our graduating class