A small federal delegation visited Catholic Charities' Kenton Women's Village in North Portland March 21, learning how the innovative tiny house model might be applicable in the region and nationwide.
Jeff Olivet, executive director of the U.S. Interagency Council on Homelessness, said Portland and Seattle have some of the nation's highest numbers of unsheltered residents. The council aims to prevent and end homelessness in the country. Made up of 19 federal agencies, the council works to create partnerships, focusing on a housing-first approach to social services.
"The Biden administration set a goal to reduce homelessness in the U.S. 25% by 2025. We cannot achieve this without significant progress in Portland and Seattle," said Olivet. "But I believe that it is possible, especially if we work together — across systems, sectors, and jurisdictions — with urgency and creativity. If we can solve homelessness in Portland and Seattle, we can do it anywhere."
Places like Kenton Women's Village can play an important role in progress, Olivet said. He praised Kenton's on-site access to case management, mental health counseling and other services. The services are designed to help people remain housed after they make the move.
Catholic Charities is a significant provider of transitional housing with services, including Kenton Women's Village, which has 20 pods, and Chiles House, a 27-unit apartment building next door to Catholic Charities headquarters.
Catholic Charities' executive director Natalie Wood attended the Kenton tour, arriving early so she could sit and chat with villagers.
"We are glad our federal partners want to see how Kenton Women's Village operates," said Wood. "We've learned that housing alone isn't enough to address the homelessness crisis. We need skilled workers to accompany people on their journey, listen to the stories of trauma and obtain the right assistance. That accompaniment is the only path to sustained recovery."
Leading the tour was Courtney Hamilton, homeless services manager for Catholic Charities. Hamilton explained that women who live at Kenton may have a chance to move into Chiles House. Other villagers go to other Catholic Charities programs that include housing or find affordable permanent housing elsewhere. 
"We are really trying to prepare them to get into housing," Hamilton said, explaining that years on the streets may leave people out of practice for living indoors. "A lot of people coming out of houselessness aren't necessarily ready for housing right away."
Hamilton told the delegation about trauma-informed care at Kenton Women's Village. One pod has been set aside expressly for counseling. 
Lindsay Kendall, Kenton Women's Village manager, told the delegation that villagers stay occupied with chores and meetings with case managers.
Olivet, along with Katy Miller, the council's senior regional advisor, also met with local, state and federal leaders and visited encampments, shelters, and new housing to learn what the Northwest needs and which solutions seem to be working.
Earlier in the month, Multnomah County received $8.3 million as the first part of a federal aid package to tackle unsheltered homelessness. The grant is the first federal funding that coordinates grants and housing vouchers.
Though overall homelessness remained flat during the pandemic, unsheltered homelessness rose by 3% from January 2020 to January 2022 nationwide. In Oregon, the percentage of homeless individuals has increased by 22% since last year.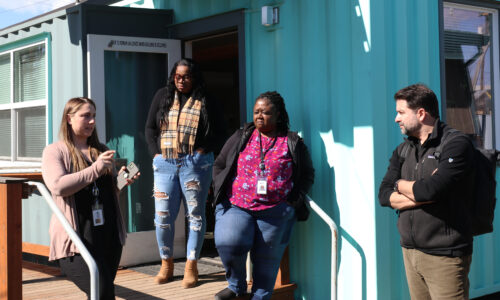 Lindsay Kendall, Kenton Women's Village manager, explains how the village operates March 21. Listening are Asiah Sawyers Burroughs, also a manager, and Cherie Hadley, program coordinator at Kenton. At right is Jeff Olivet, executive director of the U.S. Interagency Council on Homelessness.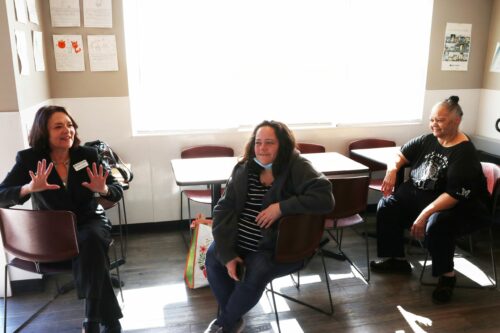 Natalie Wood, executive director of Catholic Charities of Oregon, chats with Toni Tuski and Elena Wilson of Kenton Women's Village March 21.